NEEWER ST-T01 Metal Cellphone Telescope Adapter Mount
---
Shipping from local warehouse based on your area, normally it takes 2~10 days for the delivery, Learn more at Shipping Policy.
Two sizes available: Fit your telescope with an eyepiece outer diameter ranging from 1.18"-2.52" / 30mm-64mm, or 1.02" - 2.05" / 26mm - 52mm.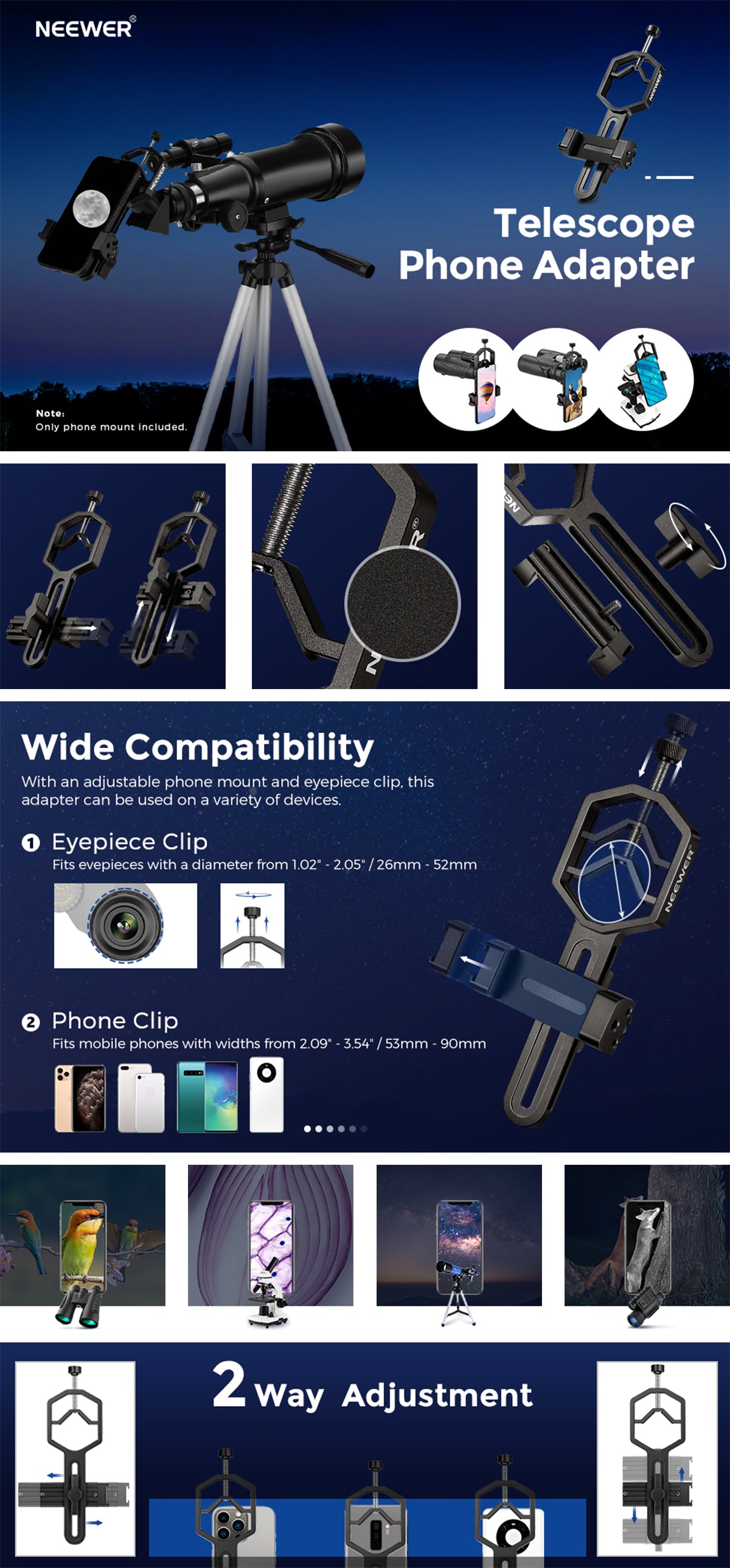 Features
Use your mobile phone to take amazing photos and videos of the deep sky.
Compatible with binoculars, monoculars, telescopes, microscopes, spotting scopes, night vision scopes, and more. Fits eyepieces with a diameter from 1.02" - 2.05" / 26mm - 52mm or 1.18"-2.52" / 30mm-64mm.
The adjustable phone mount has a wide adjustment range from 2.09" - 3.54" / 53mm - 90mm and is compatible with iPhone, Samsung, Sony, and more.
The spring-loaded phone mount securely holds your phone in place.  It includes a cold shoe mount as well as a 1/4" screw hole for mounting and accessory options.
The phone mount features soft rubber padding to protect your phone from scratches.
Made from strong, durable metal for long-lasting use.
Specification
Model: ST-T01
Material: Aluminum Alloy
Dimensions: 7.28" x 2.89" x 2.24" /185 x 73.5 x 57mm
Weight: 6.2oz / 170g
Color: Black
Package Content
1 x Telescope Phone Adapter Mount